2023 Democratic City Caucus – UPDATED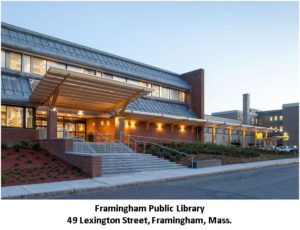 The 2023 Framingham Democratic caucus will be held on Sunday June 11th at the Framingham Public Library, Costin Room.  The library is located at 49 Lexington Street close to City Hall.
The purpose of this caucus is to elect Framingham's delegation to the 2023 Massachusetts Democratic State Convention.
Registration desk will open at 1:30pm, the caucus call-to-order will be at 2pm.  Registration closes at 2:15pm.
Update Information follows:
Framingham will elect 34 delegates and 6 alternates at this caucus.  The FDC chair is an ex-officio delegate not counted among the 34 elected delegates.
Caucus participants must be registered Democrats in the City of Framingham, same day registration will be available.  There will be a hybrid option for those who wish to participate remotely.  Pre-registered Democrats must be age 16 by May 23rd in order to participate in the caucus.
For the 2023 caucus the Mass Democratic Party is allowing nomination in absentia.  Potential candidates who wish to be considered must inform the caucus chair in writing prior to the caucus of their desire to be so nominated.  Any potential candidates who have written their intention to the chair may be nominated if there are vacant seats in the delegation after caucus voting has concluded.
All delegates and alternates must pay a $75 convention fee ($50 for seniors and students).  A fee waiver is available upon request.
The convention will be held at the Tsongas Center in Lowell on September 23rd.  This will be entirely in-person, there is no remote participation for the 2023 convention.
Additional convention information is on the state party's website;
https://massdems.org/massdems-convention/