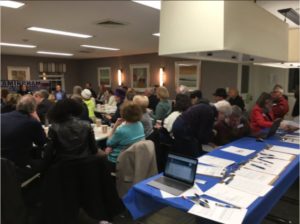 ZOOM MEETING – BEST PRACTICES
(05/17/2020) – Due to the stay-at-home orders caused by COVID-19 restrictions, the FDC will be conducting its meetings remotely via Zoom.  The following PDF contains best practice guidelines for members to follow while participating in the FDC Zoom meetings.  Thanks to Mary Kate Feeney for providing these guidelines.
FDC Zoom Best Practices Guidelines (PDF)
The Framingham Democratic Committee usually holds eight to nine monthly meetings during the year, usually on the second or third Sunday of the month, and usually in the Community Room of the Framingham Green Apartments at 136 Maynard Road. There are no meetings over the summer (July and August) and no business meeting in December, although the Committee often holds a holiday party in December. In most years there is no business meeting in February, just the annual Democratic Caucus. The caucus date is subject to State Party guidelines.
The meetings of the Framingham Democratic Committee are open to the general public for observation; however, participation in the discussions, questions and answers is limited to Committee members and invited guests. Periodically the Committee also holds forums and other informational programs in which the general public is invited to participate.
Meeting start times are generally preceded by a social hour where coffee and snacks are provided for members and guests. The social hour offers an opportunity to interact with public officials, candidates and guest presenters who might be in attendance.
(The Framingham Green is the primary location for the Framingham DTC meetings. Some meetings are held at an alternate location known as Heritage Senior Assisted Living. )
NOTE: The Framingham Green is a smoke-free community. The Framingham Democratic Committee requests its members and guests to be aware of this while on the property of the Framingham Green.
PARKING: The Framingham Green's parking lot is for its tenants only. Out of respect for the tenants of the Framingham Green, all members and guests are asked park their vehicles using the lot located at 1071 Worcester Road on the corner of Maynard Road and Route 9, across from the Mobil station.